CLASS DESCRIPTION
Please note certain classes are not offered on an ongoing basis. To know which classes are offered when, consult the schedule here
To renew your energy, to support healing of injury or disease, or to relax deeply, this non-invasive practice is effective by providing the space, time, appropriate postures in proper sequence and with appropriate support in order to deepen awareness and allow the deep wisdom of the body to carry out its work (see the gallery for some of the postures taught in this class)
Yoga Basics
This class is intended for beginner yoga students or students who have not practiced for a period of time. Basic asanas (postures) are introduced progressively with detailed alignment instructions. Students learn foundational standing poses, twists and forward bends along with breath awareness.
VERY GENTLE
Slow-paced and supported practice using lots of props focuses on breath awareness, body connection and proper alignment. Appropriate for students with or recovering from injury or disease, those with reduced mobility and is also very enjoyable for seniors.
YOGA FOR YOUTH ( 9 YEARS +) ELIOT
Yoga for Youth is a one-hour class designed for students ages 9 to 17. Though the class is taught in a dynamic way, like all of Eliot's classes, instruction includes proper alignment. Once a month, during new-moon time, students will be taught a quieter practice that includes pranayama (breathing techniques).
LEVEL 1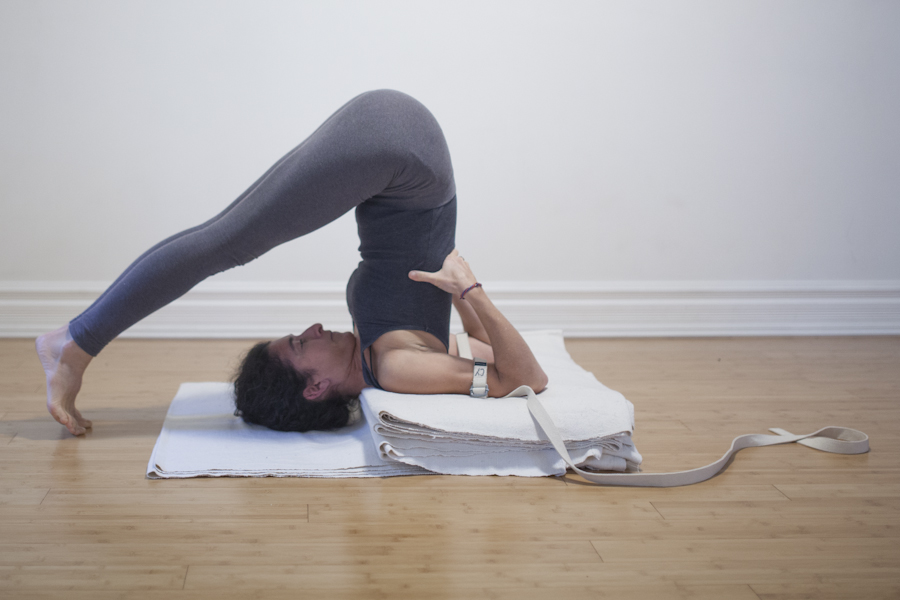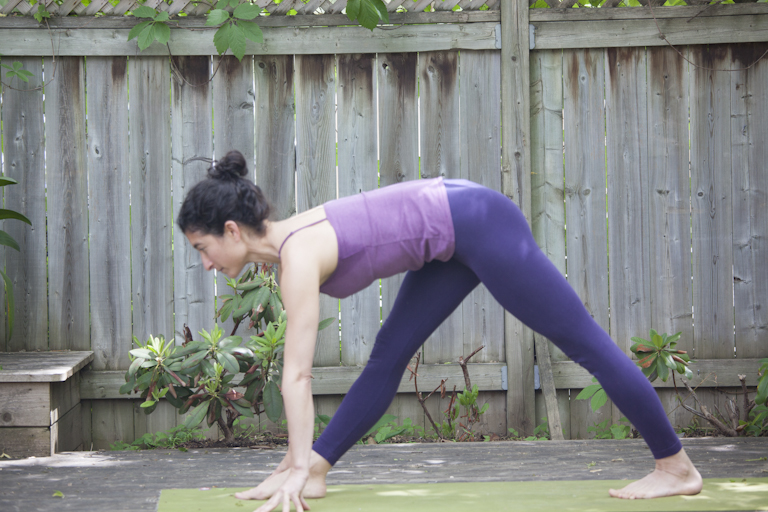 Once students have taken at least one year of regular classes of combined beginner and basic yoga, they can consider level 1. Level 1 includes the refinement of basic standing poses, forward bends, seated postures and twists. It introduces backbends and inversions, pranayama (breathing techniques), chanting and meditation. Because level 1 is not a beginner's practice and focuses on deepening awareness, it is suitable for continuing students who prefer a gentle and slow approach to their asana practice (see the gallery for some of the postures taught in this class).
LEVEL 1-2
Level 1-2 (intermediate 1) is meant for students who feel confident in level 1 or already have a regular strong practice in other styles of yoga. Building on level 1, we enjoy refining and deepening the asanas (yoga postures). The regular practice includes longer holds than level 1, deep forward bends, balances, twists, inversions and backbends as well as pranayama (breathing techniques), chanting and meditation.
Please note that a level 1-2 + (intermediate 2) class is also sometimes offered. It is a slightly stronger level class than level 1-2
LEVEL 2
Level 2 (intermediate 3) is for students who have been practicing for several years and have an established regular practice. Assuming that all level 2 students know the basic postures well, this class is about introducing more subtle internal aspects of asana alignment as well as pranayama. Level 2 students are expected to have a keen body awareness and, with the teacher's support, be able to choose the variations of postures and the length of holds that are appropriate for their body needs, while practicing at their threshold (see the gallery for some of the postures taught in this class).
LEVEL 2 - VINYASA
For level 2 students (see above), these short asana-breath linked classes are designed to support strong yoga students as a second, third or fourth practice of the week.
Please contact Eliot before deciding to come to this class.
Level 2 Syllabus Class (ENG)
In a syllabus class the teacher systematically guides students into each āsana (yoga posture) with concise and simple instructions, all the while reviewing the necessary actions required. It is a great opportunity for students to invigorate their practice and knowledge of āsana.
Prerequisite:
Able to do shoulder stand and head stand.
No serious structural problems e.g. back pain, neck pain.
Who should attend:
If you are a student teacher this will be an excellent review.
If you regularly attend Level 1/2 classes.
If you regularly attend Level 2 classes
dhyāna Meditation
Eliot teaches an easy and practical meditation practice with complete instructions. She teaches based on her own deep contemplation and evolving understanding of the theory of the practice as given in the authentic ancient sanskrit revealed text Vijñānabhairava Tantra.
In addition, she provides students with supportive teachings to help them understand their practice and its challenges. Her classes help students continually refine both their practice and their understanding of the practice so that it may serve them well in their daily lives.
She encourages students to cultivate a daily meditation practice on their own and gives them effective tools so this may happen naturally.
Students who have paid for one full session of meditation classes with Eliot may then continue to come to future 45-minutes sessions at no additional cost. This way, students may continue to feel supported in their practice and through their presence, they will also support others who are more new to meditation.
This class is offered on an ongoing basis. Students who register come to a 12 weeks session period that starts from the first class they attend.
Sleep better tonight (ENG)
This class is an interactive exploration, discovering sleeping patterns and triggers that may be contributing to your lack of sleep. How often do you say: I have trouble falling asleep, or I wake up too early or I want a good nights sleep?
The Sleep Better program will help you build a regular yoga practice and provide you with techniques to clear your mind. Finding ways to sleep better tonight and every night.
Prerequisite: completed minimum of one year of yoga basics and/or level 1.
SEMI PRIVATE CLASS
If you feel that you need extra attention in a regular class to do the yoga poses, this is the class for you. There will be fewer people in the class and more props making the pose more accessible to your unique situation. You can request permission to attend this class by contacting Eliot.
PRENATAL YOGA
In my prenatal classes, I encourage postures that facilitate a healthy, happy pregnancy and labour.
You will learn breathing and relaxation techniques, as well as simple postures that can be helpful during labour.
You will also have an opportunity to learn some partner yoga where the expectant mother can bring her companion to practice the breath-work, postures as well as simple massage techniques that can be beneficial during labour.
PARENT & BABY YOGA
As a new mom, I recognize the importance of being part of a group of other parents who can offer support, advice and their own "mommy moments"!
Classes are designed to gently stretch, strengthen and relax areas of the body affected by parenthood, meet other parents & share experiences and bond with your baby using songs, physical movements and simple infant massage all while in our poses!
In my classes, I encourage parents to get to know one another and build a support network, for ourselves and our children. My goal is to create a sense of self-acceptance, humour and joy as I draw on personal experiences such as my own pregnancy and birth of my son Brendan!
FAMILY YOGA
Introduce your Family to the joy of Yoga!
Strengthen your family bond and encourage a healthy lifestyle through simple postures, breath work, creative play, songs, games, and crafts.
This class is for all ages and levels. Grandparents and Caregivers are invited to join the fun! Consult our Events & activities calendar.
HATHA YOGA -
MILD TO MODERATE
This 'express' yoga class offers a good start to vitalize your body and let go of the tension of the week. Meditation, breathing, stretching and postures (asanas) will allow you to reach out to your body gently and with openness. Accessible to all, this class invites you unite your body and your consciousness.
HATHA YOGA -
MODERATE TO VIGOUROUS
For fun, relaxation and rigor, this yoga is a great way to end the day. This practice is a series of postures (asanas) performed in a fluid sequence that increases flexibility and reinforces the body. Celebrate your body and push your limits!
Please note Cathia's courses are given in French
KUNDALINI
Kundalini Yoga, also known as Yoga of Awareness, is particularly powerful in its effects; sessions are very structured and each of them carries a particular theme to work on. It provides a vast number of very diverse techniques from which to chose to serve one's main objectives and aspirations.
Please note Sophie's courses are given in French
NOONTIME YOGA
Plug in to your own power at the beginning of the week!
Enhance your lunch time with a 45 min. Kundalini class followed by a healthy treat of veggie or fruit juice.
Noontime yoga classes includes
dynamic and static yoga postures
breathing exercises
relaxation
a short meditation
Please note Sophie's courses are given in Fre
MEDI GONG
A smooth and relaxing class that will allow you to bathe in the warmth of the fireplace adding candescence to your practice.

This class combines gently breathing exercises (pranayama), meditation, sacred chants (mantras) and meditative relaxation to the sound of a symphonic gong.

Open to all, no previous knowledge of yoga required. Designed to be accessible to both advanced yoga practitionners and students whose general physical condition requires a less demanding practice. Students can either be sitting on the floor, on a yoga mat, or on a chair. Semester registration or drop in.
Please note Sophie's courses are given in French
GONG HEAVEN - FOR ALL
Come finish the week on a relaxing note to the soothing sounds of Gong.
The evening will start with some mindful breathing exercises, continue for about an hour of relaxation lulled by the sound of a symphonic gong and conclude with a final meditation with a mantra chant. Consult our Events & Activities calendar to know the dates.
Please note Sophie's activities take place in French
Strengthen your body from the inside out.
Treat yourself to a weekly experience of connecting with your body. At Pilates fusion, you will explore Pilates, dance, martial art and yoga-based exercises, and a wide range of music, to relieve pain and tension, tone your muscles and build core strength.
Emphasizing body positivity, Pilates fusion can benefit people of all ages and movement abilities.
CHILDREN'S MOVEMENT (ENG)
(Parents & Tots - 2 to 4 years) With a parent or care-giver, children will explore movement and music styles that stimulate their imaginations and natural creativity. This class is for boys and girls and offers exposure to various dance forms while encouraging confident self-expression.
Hatha- gentle to moderate
This course offers a sequence of poses (asanas) sitting, standing or lying down, flexing or twisting with a focus and different regions of the body. Alignment instruction is included to work balance and openness, flexibility and muscle strength. Several variations are offered depending on the level of each student and props are used if necessary. Some postures are held longer for deeper work like the opening postures of the chest and hips. No matter what your level, this course is calm, friendly and welcoming!
Please note Véronic's courses are given in French
Salsa Babies ™
With little ones snuggled in to baby carriers, Salsa Babies™ offers a great workout, a chance to socialize and an opportunity to introduce one's child to music and movement. Classes are appropriate for babies 6-8 weeks of age and up.
For more information please visit salsababies.com or visit us on Facebook at Salsa Babies Gatineau.
The language in which classes are taught is indicated below the teacher's name
FR: French
ENG: English
FR/ENG: in both languages